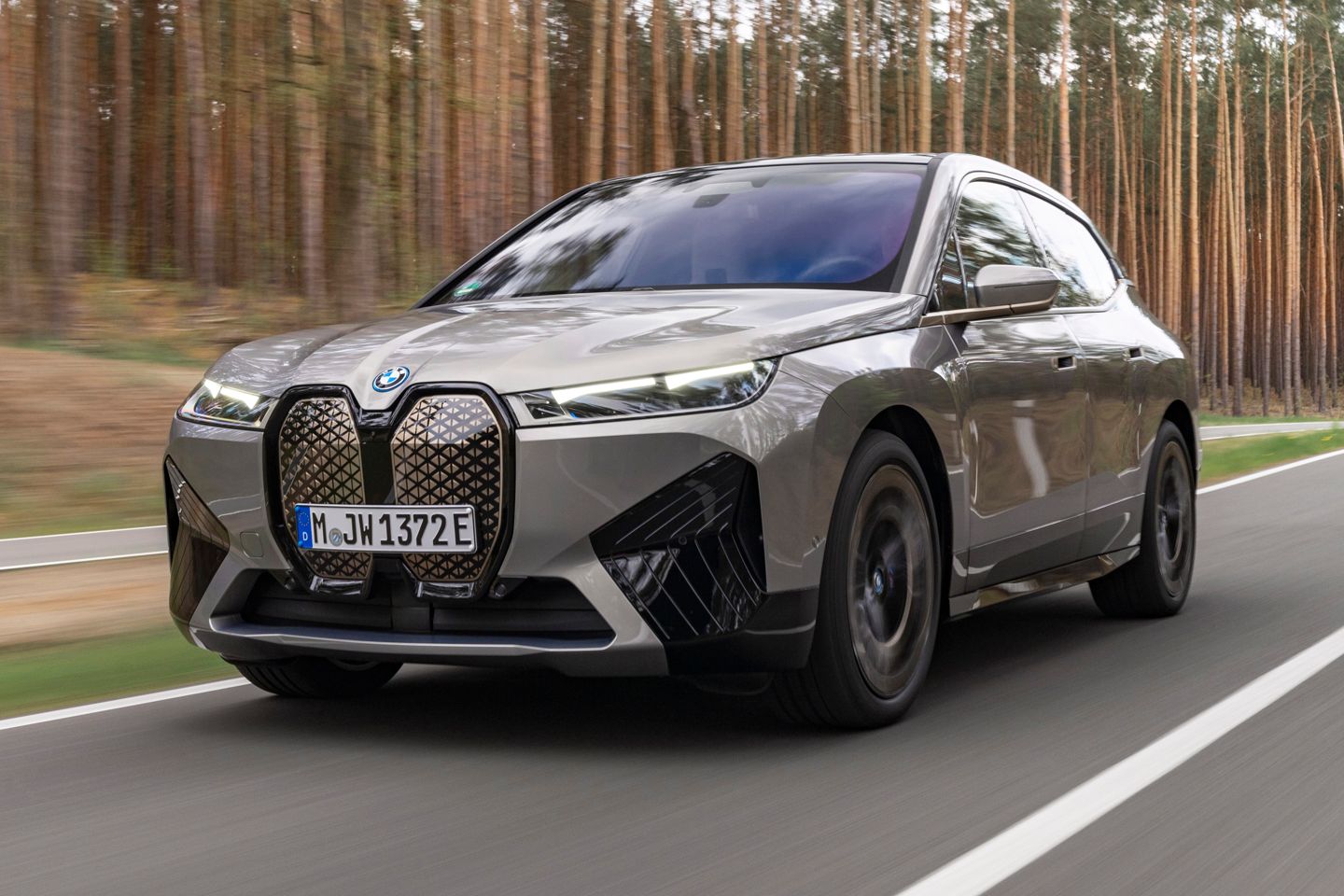 As if the concept of a huge, expensive, electric BMW M SUV wasn't controversial enough, the new iX looks how it does. Many more intelligent, insightful, and entertaining opinions have been proffered on this car's styling, so we shouldn't dwell on it for too long. But it feels worth mentioning that, even in a lineup of brand-new BMWs, the iX stands out as something ungainly – and that's quite the achievement. Additionally, it's even harder to excuse this car's appearance given its status as the M Performance flagship. 
Though always more subtle than a full M car, models like the M240i and M550i are just about identifiable from lesser models to those in the know, and usually quite handsome with it, too. This iX though seems intent on concealing its 619hp potential, with even the M badge blacked out. Only titanium bronze highlights and the M brake calipers (largely hidden behind aero wheels) mark it out. Perhaps the need to show off an M-lite version is reduced when the base is already such an attention-grabbing and expensive creation, but this is a £120k car that's as fast as a CSL to 62mph and will do 155mph. It feels like the M60 should shout as much about its M-ness as it does its iX-ness, if not more given the divisiveness of the base product.  
Once you're safely inside the iX, things seem much more positive. If the outside is odd even among other weird-looking BMWs, the interior is utterly glorious even by the very high standards of its maker. The plush materials and crisp displays are kind of a given, but combined as they are with the additional space and light that comes with an EV (and a huge pane of panoramic sunroof) it really does give the iX the impression of an expensive and very inviting living space. There's even a nice slab of wood like any good lounge, and some lovely features to show off when the neighbours come around for a look: see the crystal iDrive and seat adjustment, plus the hidden door handles.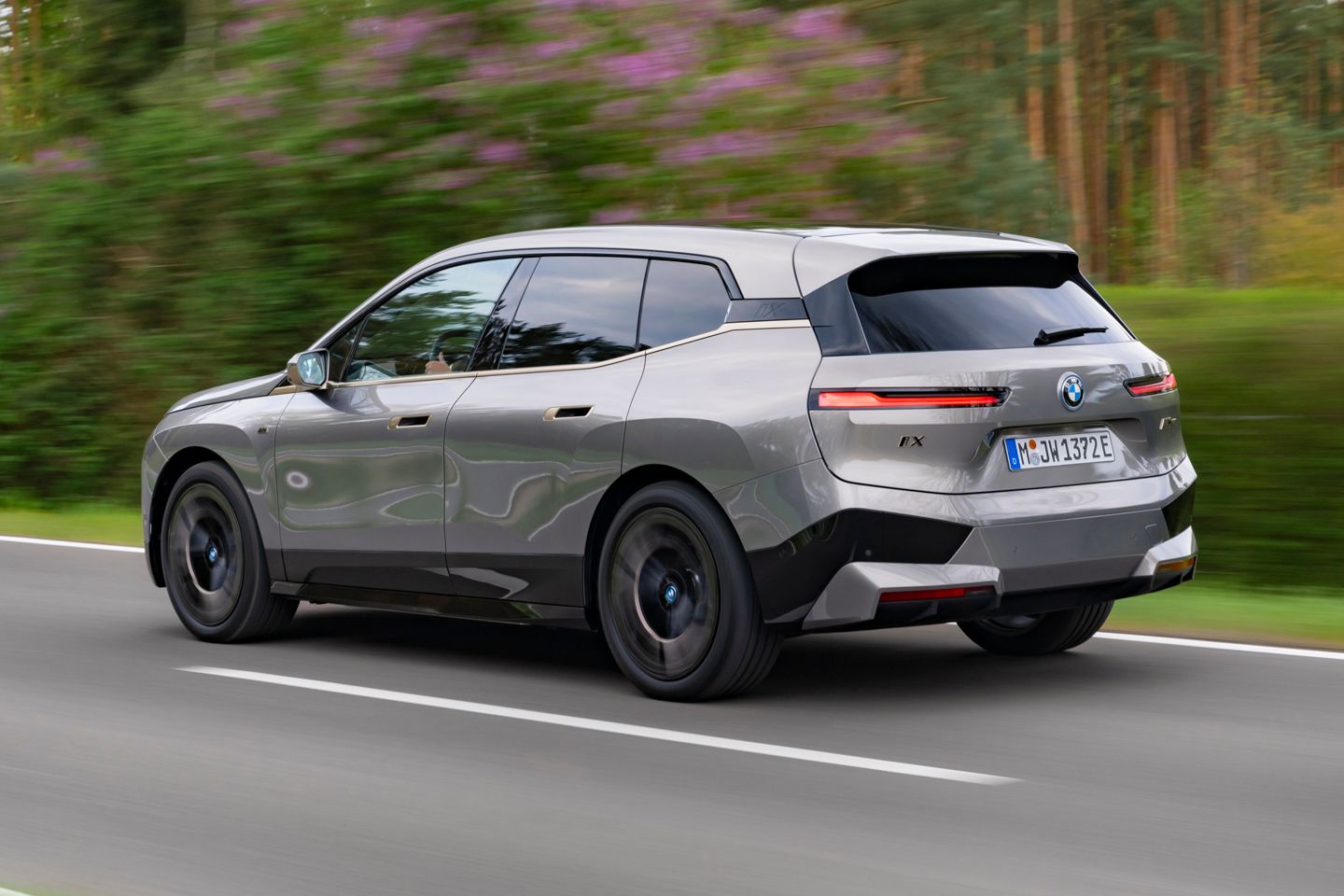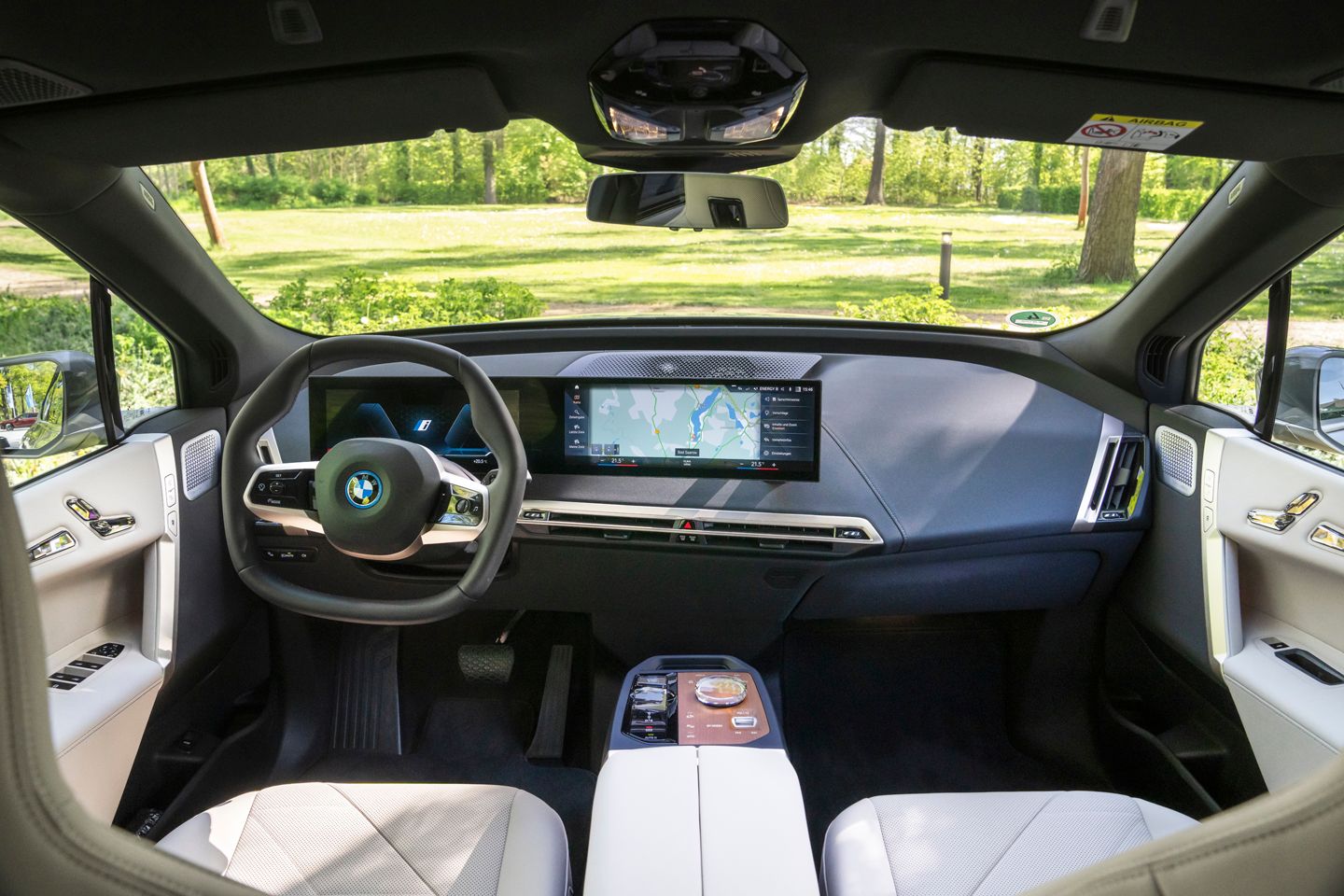 It's all very swish, if not exactly very M. Normally you can't move in any kind of flagship BMW for the M tricolour, and it's noticeable by its absence here. Maybe not a bad thing, but so are the familiar M cues like great seats, or shortcut buttons on the wheel, or bespoke dials. The interior of the M60 is wonderful, though only as wonderful as the rest of the iX range. And that starts at £40,000 less.  
The premium undoubtedly buys performance, though. If the numbers look fairly bonkers written down – 619hp, an 811lb ft overboost – they're even more extraordinary to experience. Having come from an X7 M60i (ignore the pics, we drove a right-hand-drive car in the UK) the M60 makes the V8 feel almost pedestrian, such is its ability to relentlessly accrue speed. Your conscience is going to call time on acceleration a long, long time before the car does. Reports of the iX M60 sauntering up to its 155mph limiter feel entirely believable, such is the ability to accelerate like an avalanche, unstoppably building momentum. The iX M60 even sounds quite cool, despite BMW IconicSounds Electric not labelling it well; the sci-fi hum is nothing new really, though the way it envelopes the cabin certainly is, almost like a great concert hall. You won't forget it in a hurry, put it that way.  
On this fairly limited experience, the iX drives pretty much exactly how you might expect on its M-tuned air suspension. Which is to say completely astoundingly, even coming from something as accomplished as the latest X7. Yet, just as incredibly, it doesn't feel to particularly raise the bar for high-performance electric vehicles – precisely because that bar is so extraordinarily high. It corners, grips and sticks like no car of this stature ought to, with a seemingly unimpeachable hold on the road. (Some reports of understeer suggest we could have tried harder; new M cars don't usually want for front end.)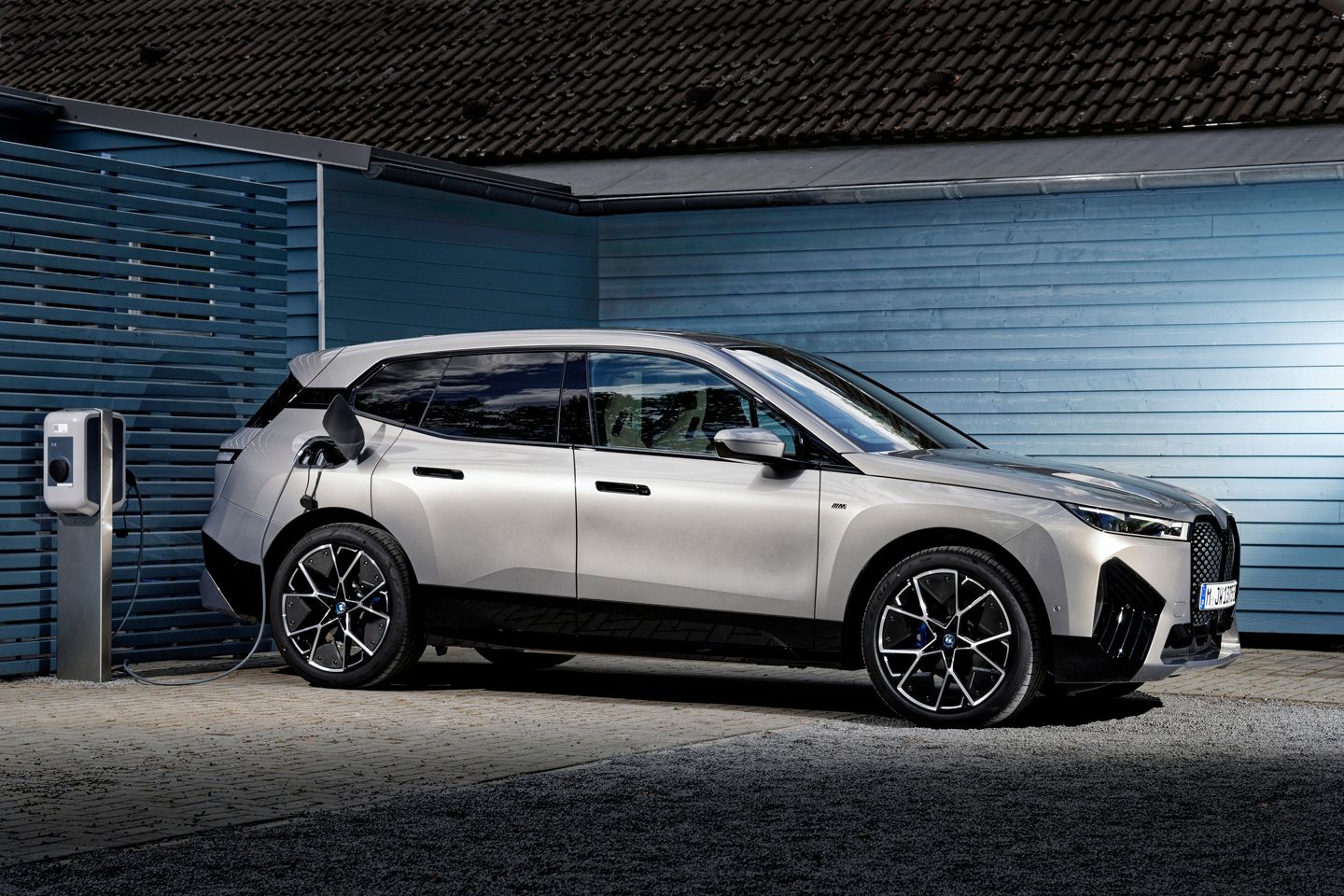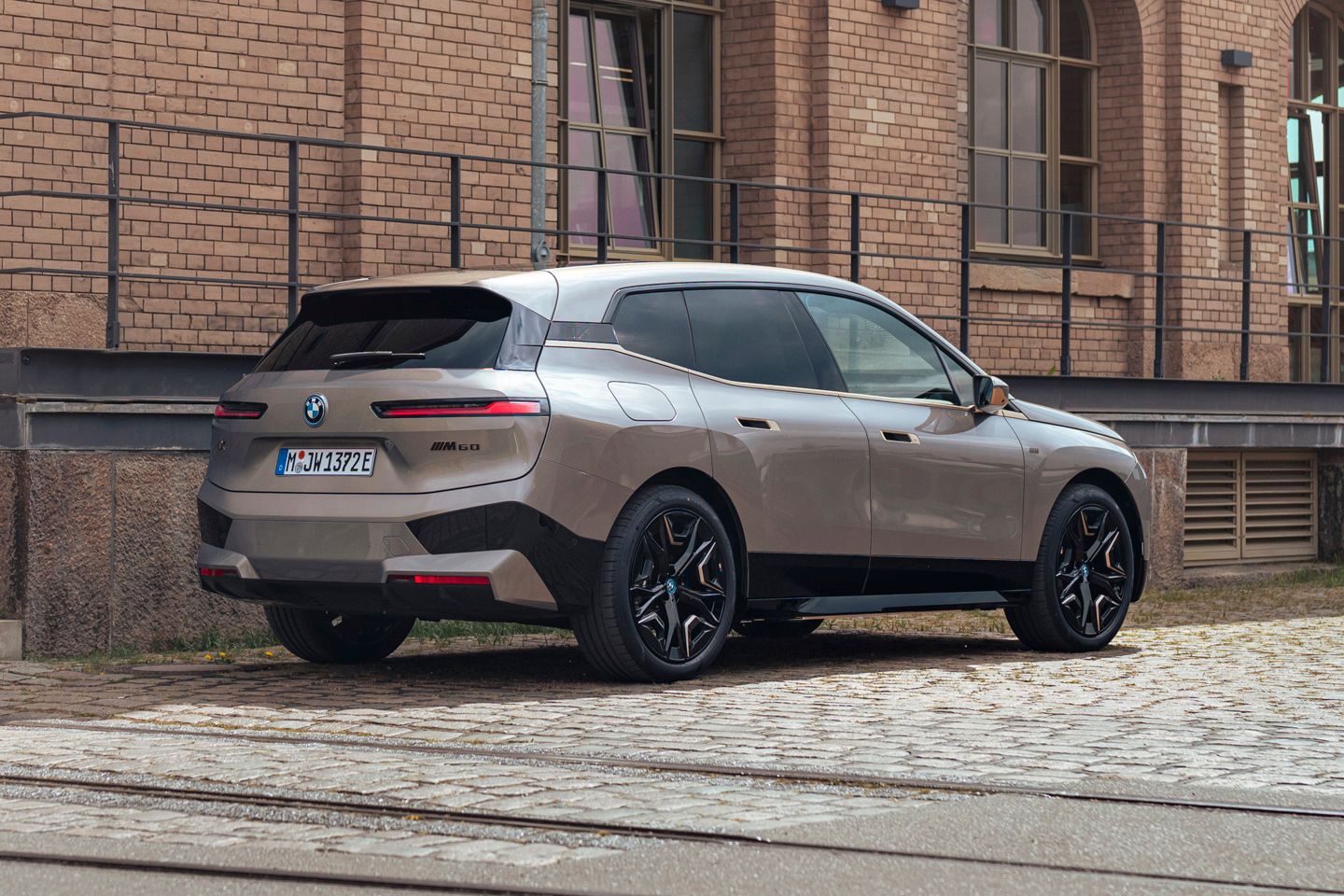 From inside, the progress feels almost spooky, so goodness knows how it looks on the outside, silently and relentlessly swallowing up road. There's precious little sense, however, of the iX feeling like a BMW, let alone an M car. Perhaps that will come with time and greater familiarisation of its formidable abilities, but in the same way that the 'feel' of any brand is intangible, it's often unmissable as well. The iX feels like an outstanding achievement in need of a distinct identity. A distinct positive identity, at least. 
BMW describes the M60 as a car that 'embodies the best of BMW i, BMW X and BMW M GmBH in one powerful model', and perhaps that's part of the problem. As an electric vehicle, it's pretty competitive, with a huge 105.2kWh battery meaning 348 miles of range and decent efficiency of almost 3 miles per kWH – but all the bits that go into making it a BMW X car have added weight, and dented efficiency. And it would also be fair to say that nobody's favourite M car is SUV-based, muddying the water further. The M60 is definitely of all three worlds, though it's hard to agree that it represents the best of them. It's hard not to think what a flagship electric car focused on just one of those attributes might have been instead.  
Unfortunately, as with so many EV flagships, the M60 ultimately struggles to justify its billing – at least from this introductory drive – over the lesser-powered models. It just accelerates more violently. Maybe that's reductive, and maybe (hopefully) there's more to discover in time. But with the iX in xDrive40 or 50 guise already boasting that exquisite interior and so much shared architecture, it was always going to be a struggle for the M Performance to offer an awful lot more that didn't involve a facelift. But then people bought V12 7 Series when it offered precious little extra over a V8 beyond prestige, so perhaps that'll happen again in the EV age, too. Undoubtedly, the iX M60 does stupendously fast, immensely plush, and fearsomely capable well enough to earn it flagship status. But it ain't no M car of any stripe. 
SPECIFICATION | 2022 BMW IX M60 
Engine: 400V Lithium-ion battery, 105kWh capacity, twin AC synchronous electric motors
Transmission: Single-speed, all-wheel drive
Power (hp): 619 (total system)
Torque (lb ft): 811 (total system, overboost)
0-62mph: 3.8 secs
Top speed: 155mph
Weight: 2,670kg ('weight not loaded')
Range: 348 miles (WLTP)
Price: £116,000 (price as standard; price as standard £121,695 comprised of BMW Individual Storm Bay paint for £795, 22-inch bicolour M Aerodynamic wheels for £350, Titan Bronze Exterior Trim for £550, Sky Lounge Panoramic Glass Sunroof for £2,950, Clear&Bold Interior Application (!) for £1,050)