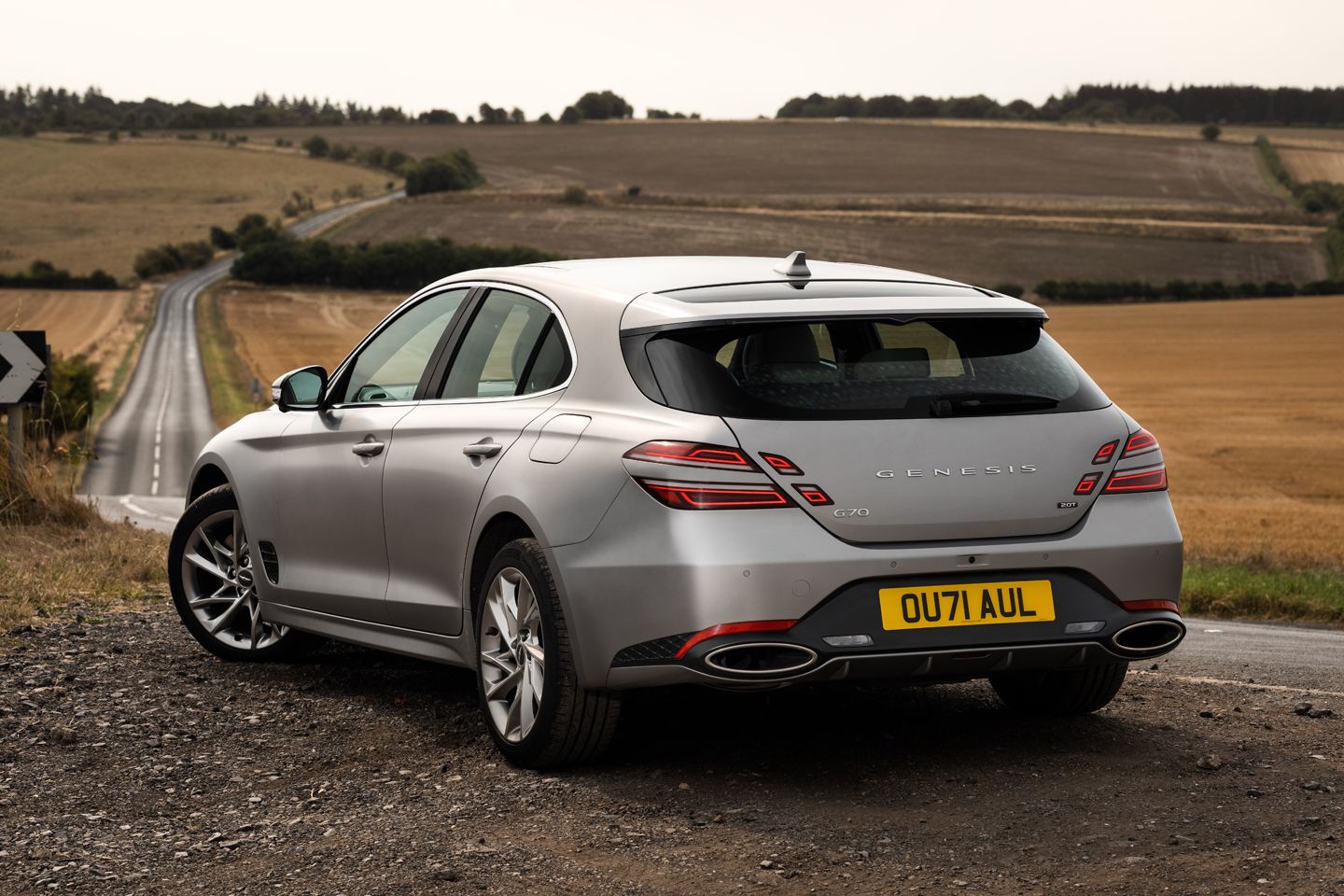 Though it's easy to dismiss a UK drive after an international launch as just another bite at the coverage cherry, priorities do change when at home. No longer fixated on how the minutiae of Car A's handling and performance compares with its rivals Car B and Car C, the assessment becomes less strict and more about a general fitness for purpose in everyday life. Against expectation, the Genesis G70 Shooting Brake is a much more likeable car over here than it was abroad.  
It still isn't a class leader, that's for sure. The 2.0-litre four-cylinder turbo is too thrashy and lacks the guts of similar engines found elsewhere, meaning brisk progress is at the mercy of the dozy eight-speed auto. It's not particularly efficient, either, which will penalise both company and private buyers alike. A plug-in hybrid or more likeable ICE would improve matters no end (criminal, really, that Genesis has denied Europe the 3.3-litre V6 it sells elsewhere). Those wanting the very best handling experience will be better served elsewhere, too; the G70 is a tad scrappy and unwilling when wound up to Sport+ mode and pushed. The Continentals found on the 18-inch wheels of this Luxury line car (rather than the Michelin Pilot Sport 4s on Sport versions) also don't seem the greatest either, squealing in protest when the going gets tough. 
But that's a traditional first-drive assessment. Real-world driving is seldom pushing the limits of much beyond the stereo (a very good optional Lexicon, in this instance), and it's in more typical use that the Genesis impresses. Not the most PH of angles, sure, but you only need look at how comprehensively DCT M2s outsold manuals, or the popularity of automatic Golf Rs against manual GTIs, to know that ease of use and everyday amenability remain important. More important than we like to admit, in a lot of cases.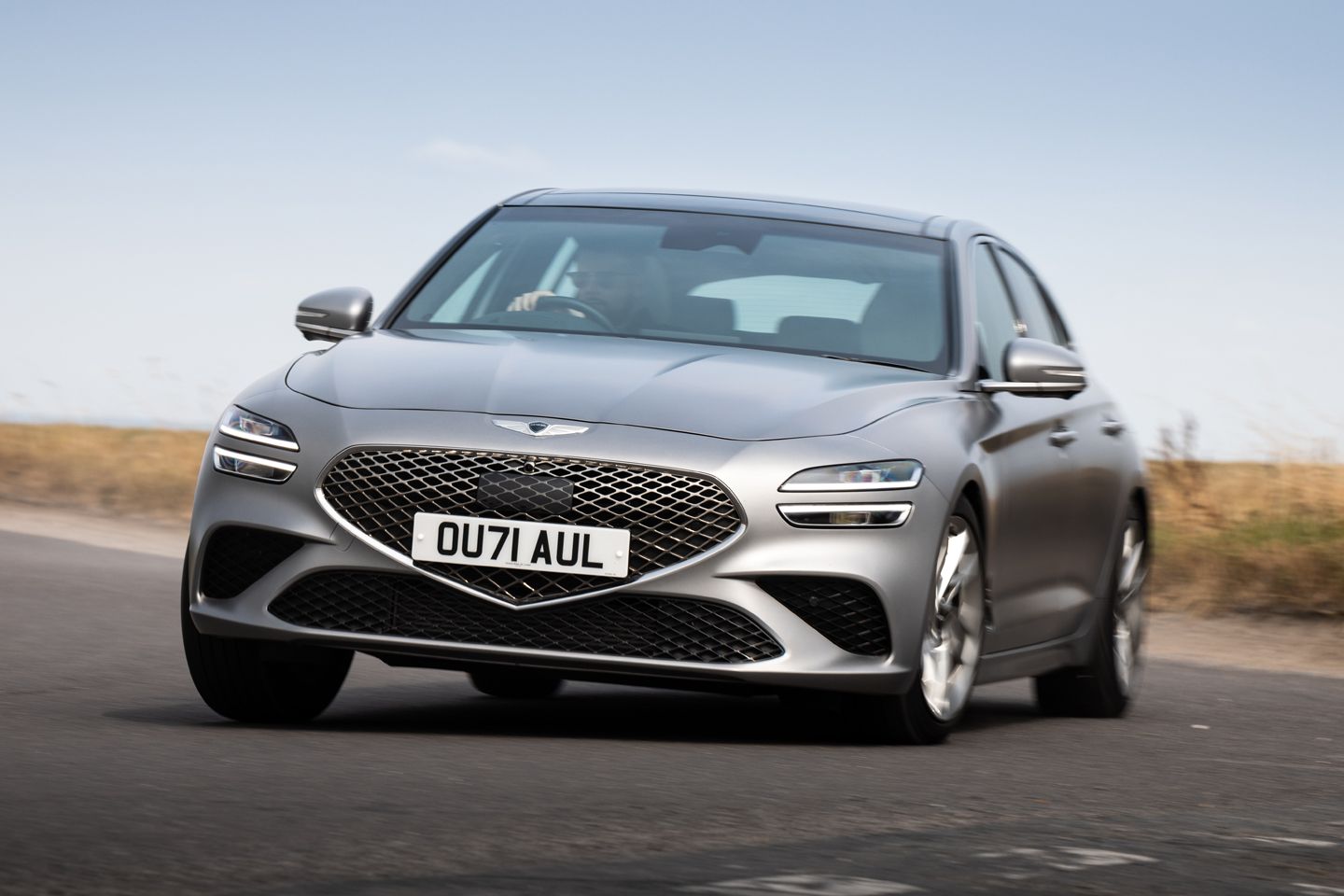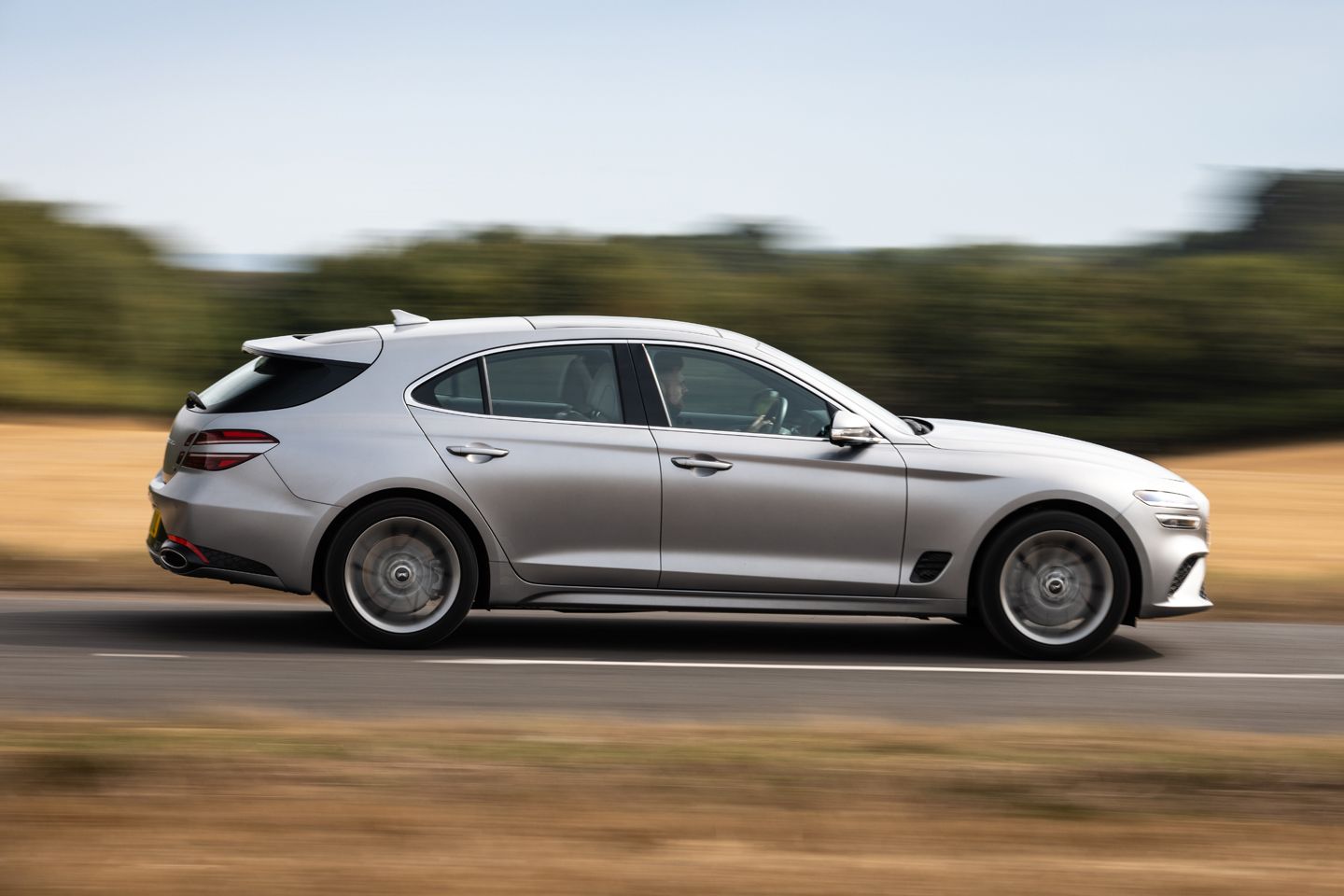 So when you're running late, being able to plug a phone in and immediately have a reliable CarPlay connection is a boon; similarly, so is having chunky (if slightly cheap) buttons and a sharp touchscreen to navigate everything. Trudging along the M4 is made so much less tedious in an interior that feels nicely built as well as logically laid out. There's no frustration at bizarre haptic controls or awkward switches because everything is where you'd expect to find it, and largely feeling expensive enough and functioning as you'd hope. The 3D instrument cluster is smart, too. The G70 is a welcoming and relaxing place to wile away the miles. 
Furthermore, though the G70 is far from the most commodious of wagons, its slight dimensions mean a car that feels helpfully compact rather than one barely squeezed between white lines. The weight rather confounds that impression, which is a shame. But it's nice to know that a refined, plush car needn't be a ginormous one. And even if it's not the most rewarding steer in the world, a brake pedal with some feel and steering that's accurate and sensibly weighted means it's anything but a chore. The Genesis is just satisfying enough to drive, like time has been spent on the control surfaces. That the sportier drive modes don't entirely destroy the steering or ride adds to that impression. Is it an on-the-doorhandles thriller? No. But then it doesn't portray itself as one. 
Another consideration less vital on an international test drive is styling. When the car is parked on the drive looking like yours (for a week or so, at least), how it looks seems more important. Again, the G70 scores favourably; the Shooting Brake has a great-looking silhouette, and the Genesis hallmarks are more successful here than any other product. Where the G70 saloon can blend into the background somewhat, the wagon draws much more favourable attention. Even if the approval of passers-by is hardly a crucial buying criterion, it'd be a nice perk if spending your own cash.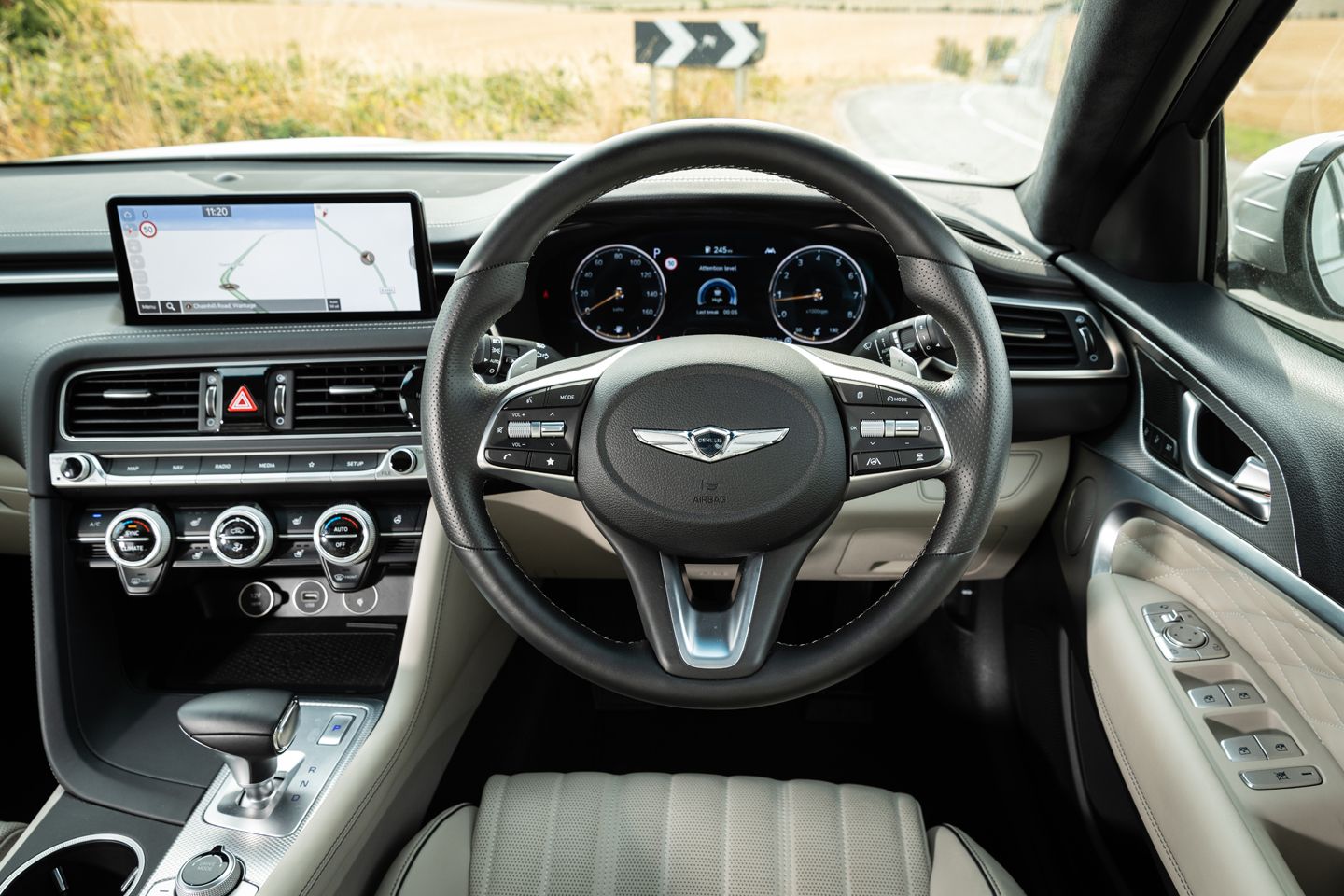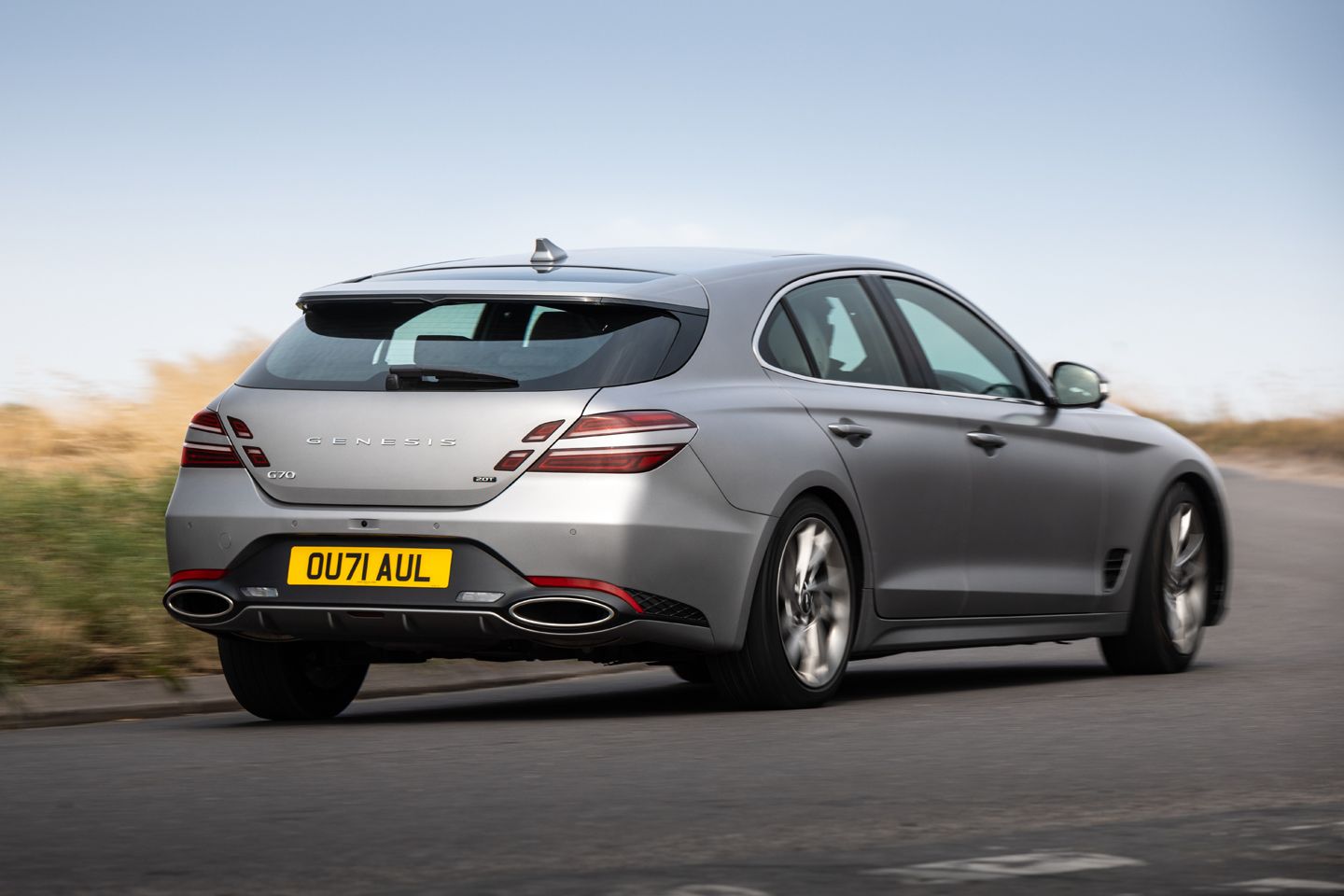 Speaking of which, the G70 isn't what you'd call cheap – and that's likely to be its biggest downfall. Even with the add-ons the brand likes to make so much of – think personal assistant and home collection come service time – there's no escaping the fact that the car sat here has a £50k asking price. And that's Volkswagen Arteon R money, which is more powerful, better to drive and arguably even nicer to look at. A price nearer the standard £40k RRP for 2.0T Luxury could be achieved with fewer options, the problem there being that the sense of well-being might take a hit without all the Nappa leather or a big sunroof. 
That the G70 Shooting Brake proved more agreeable on Britain's motorway network than smoothly surfaced European tarmac surely says much about its intended use. Those that must cover big distances across the UK, for work or family obligations, will find the new model very pleasant indeed. What a shame, then, that there aren't the powertrain options available to elevate it from also-ran to true contender. Until that potential is realised (hint), the G70 – however well sorted in most other regards – looks set to be a rare sight. Which does mean even more people will be looking, at least… 
SPECIFICATION | 2022 GENESIS G70 SHOOTING BRAKE 2.0T 
Engine: 1,998cc, four-cyl turboTransmission: 8-speed automatic, rear-wheel drive (Euro test car AWD)Power (hp): [email protected],200rpmTorque (lb ft): [email protected],450-3,500rpm0-62mph: 6.4 seconds (with launch control)Top speed: 146mphWeight: 1,717kg (minimum mass in running order)MPG: 31.5-33.1 (WLTP combined)CO2: 191-196g/kmPrice: £40,700 (Price as standard; price as tested £51,150, comprised of Innovation Pack for £3,250, Comfort seat pack for £1,850, Lexicon audio for £790, Nappa leather seats for £2,470, electric sunroof for £960 and Bond Silver paint for £1,130)