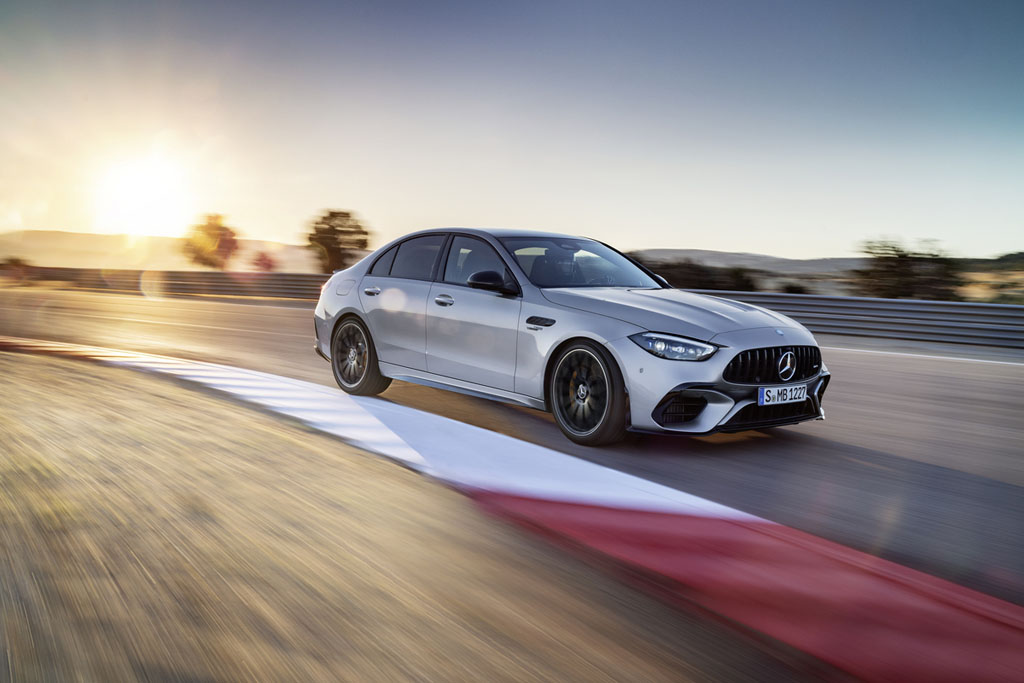 I'm certain that we will eventually find some fun in the electrification of vehicles in the future as EVs tend to serve up effortless amounts of instant torque and power. More evidence of such is the introduction of the new 2024 Mercedes-AMG C63, which features an interesting plug-in hybrid powertrain setup with part of the system using a turbocharged 2.0-liter 4-cylinder engine. The hybrid system also brings us an electric motor that works in harmony with the turbo-4 to produce a total of 671 horsepower and 752 pound-feet of torque.
If you're taking note of the power output of this new Mercedes-AMG C63 versus the outgoing V8 that we last saw as a 2021 model year, that's about 168 more horsepower and 236 additional lb-ft of torque.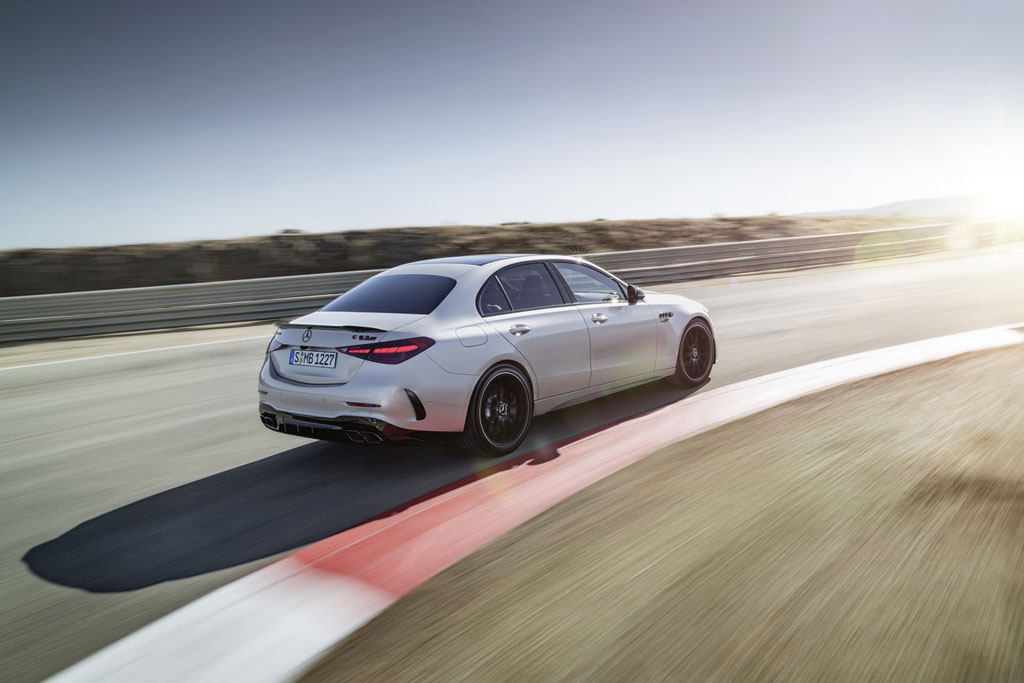 The turbo 4-cylinder engine, which comes from the CLA45 and GLA45 but gets an electrically assisted exhaust gas turbocharger, is good for 469 horsepower and 402 lb-ft of torque by itself. The P3 hybrid system is from the GT63 S E-Performance vehicle. The rear electric motor touts 201 horsepower and is operated through a 2-speed transmission. The main transmission is the AMG's 9-speed wet-clutch MCT and power is sent to all four wheels no matter if it is running on all-electric or using both the gas engine and motor.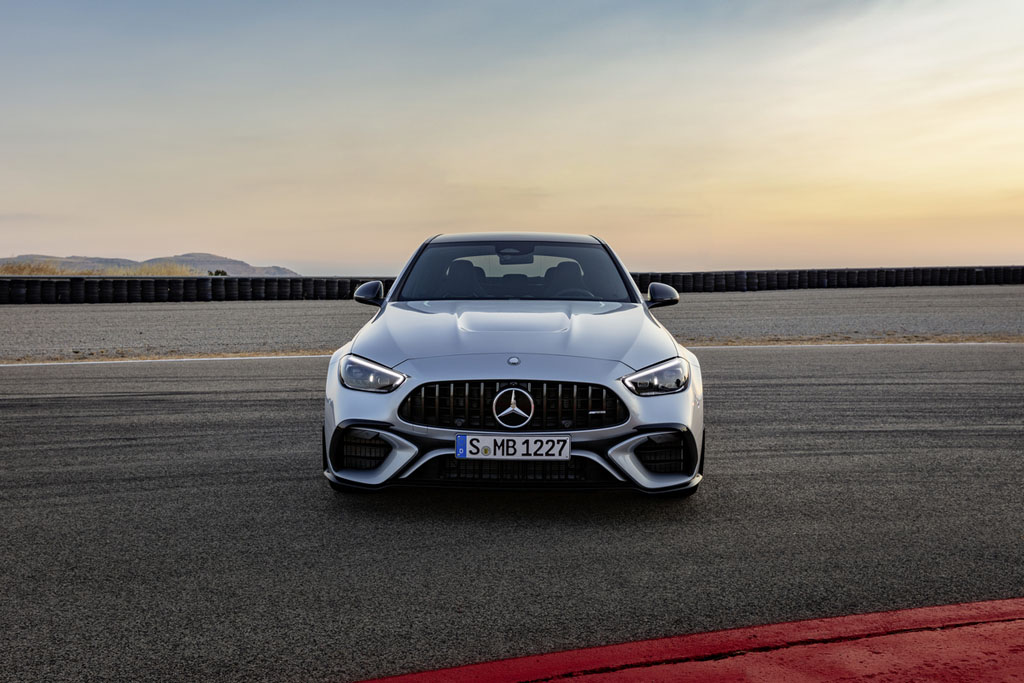 A is a lot happening with this setup but we're sure Mercedes-AMG has done a lot to make it feel more "natural" where we won't be beating the dead horse of screaming for the old twin-turbo V8 monster. In all-electric mode, you can get about 8 miles of range from a full-charged battery. While this new C63 isn't all about the EV range, it is all about performance as we should see a 0-60 mph time of 3.3 seconds and a top speed of 174 mph.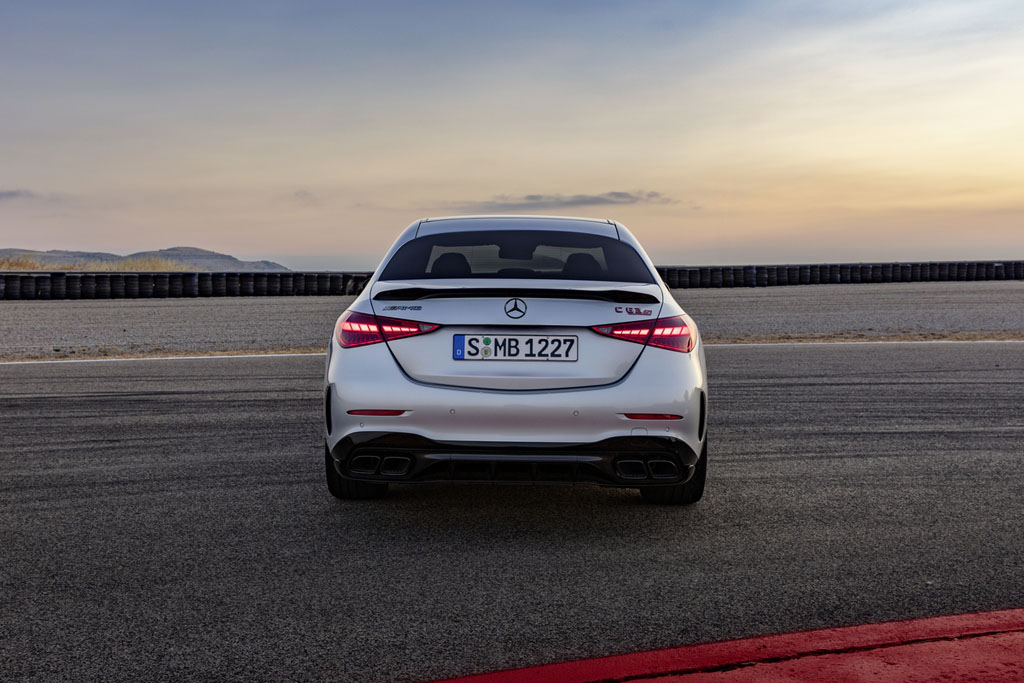 The chassis is revamped to handle and potentially attempt to hide the 4,654 curb weight using elastokinematics for dynamic handling working with the AMG ride control steel spring suspension and adaptive dampers and their 3 settings. There is also rear-wheel steering that can turn the rear wheels up to 2.5 degrees in the opposite direction at lower speeds but in the same direction at speeds above 62 mph. There are 6-piston fixed calipers up front that bite down on large iron rotors but smaller single-piston floating rotors out back.
There's no word on the availability date of the new 2024 Mercedes-AMG C63 but here in North America, we will only get the sedan form.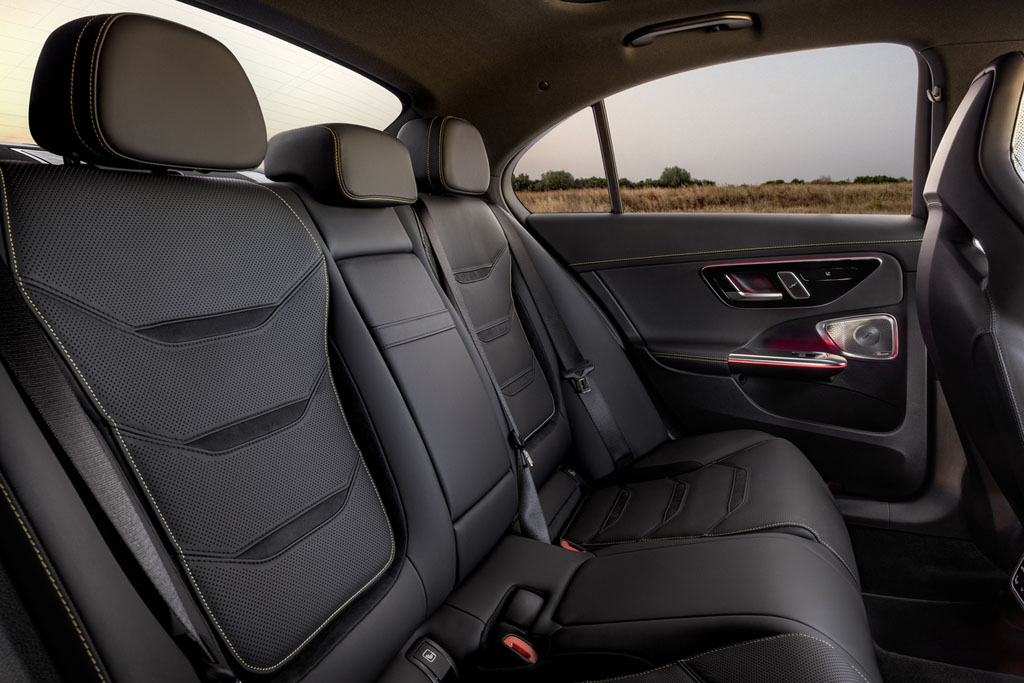 | | |
| --- | --- |
| Technical Data | Mercedes-AMG C 63 S E PERFORMANCE |
| System output | 671 hp |
| System torque1 | 752 lb-ft |
| Combustion engine | 2.0-liter inline-4 with electrically assisted exhaust gas turbocharging |
| Displacement | 1,991 cc |
| Max. output, combustion engine | 469 hp at 6,750 rpm |
| Max. torque, combustion engine | 402 lb-ft at 5,000-5,500 rpm |
| Max. output, electric motor | 201 hp |
| Max. torque, electric motor | 236 lb-ft |
| Drive system | AMG Performance 4MATIC+ all-wheel drive with fully-variable torque distribution and Drift Mode |
| Transmission | AMG SPEEDSHIFT® MCT 9G |
| Energy capacity | 6.1 kWh |
| Electric range | TBA |
| Acceleration 0-60 mph | 3.3 s (est.) |
| Top speed | 155 mph, optionally 174 mph |
| Weight | TBA |
1 Overall system, depending on gear combination