By: Daniel Vaughan
Left: 1997 Best of Show; Right: 2022 Best of Show Nominee
The combined efforts of Talbot-Lago and Figoni & Falaschi resulted in many wondrous automotive creations, including the T150C model with
goutte d'eau
, literally a drop of water referring to nature's perfect aerodynamic shape. The teardrop shape was not exclusive to the Talbot-Lago chassis, but its ruggedness and predictable handling, paired with the outstanding performance of the inline six, perfectly complimented the aerodynamic features of the goutte d'eau coachwork.
Talbot-Lago was formed following the collapse of Sunbeam-Talbot-Darracq in 1935, with the Darracq name being continued for use on export models. Anthony Lago, founder, set out to build a line of exclusive and expensive sports cars. He introduced the T-150-C in 1936, which enabled him to persuade Rene Dreyfus to leave Ferrari and drive for him. The T150 C was a pure racing car with the 'C' designation signifying 'Corse.' The shortened 2.65 meter SS chassis was a design by Vincenzo Bertarione featuring a 4-liter inline 6-cylinder engine with overhead valves and a hemispherical head tuned by Lucien Girard. Among the motorsport accolades achieved by the T150 C include a third at the 1938 Le Mans 24 Hours, winning the Tunis Grand Prix, finishing in the top two positions in the Tourist Trophy and sweeping the French Grand Prix in 1937.
Only slight modifications were made to the road-going chassis, and fourteen examples received the teardrop shape, and thirteen survive to this day. The design was both elegant and flamboyant, with sweeping pontoon fenders, a low windscreen and intimate seating for two. Some had skirted and fully enveloping front fenders, along with many other unique features expected from hand-built custom coachwork. Just four of the fourteen had a notched back, known as the Jeancart series, including the example (on the left in the above picture) that won Best of Show at the Pebble Beach Concours d'Elegance in 1997. The second series, dubbed New York, were introduced in 1937 at the National Automotive Show in New York City and featured an uninterrupted fastback profile. Not all in this series were given the New York designation, but they all are similar in appearance.

1997 Pebble Beach Concours Best of Show
Prior to winning the Pebble Beach Concours, this Talbot Lago was given an initial restoration with an ostrich skin interior. It was displayed at the Concours Automobile Classiques at Bagatelle where it won Best of Show. The car was then completely re-restored for Pebble Beach, including an engine rebuild, replacing all non-original parts, and removing the ostrich skin with pebble-grained leather. The exterior was repainted from dark aubergine to the car's original blue and silver. After two years and 4,000 hours of work, the judges at Pebble Beach rewarded it with top honors.

2022 Pebble Beach Concours Best of Show Nominees
The three Best of Show Nominees in 2022 were a 1930 Duesenberg J Graber Cabriolet owned by Sam & Emily Mann, of Englewood, New Jersey, a 1951 Talbot-Lago T26 Grand Sport Stabilimenti Farina Cabriolet owned by Merle & Peter Mullin, of Los Angeles, California, and a 1937 Talbot-Lago T150C-SS Figoni & Falaschi Teardrop Coupé owned by The Pearl Collection of Switzerland.
The Pearl Collection's car was the fourth T150C-SS chassis of 14 built, one of the few New York models, and the only Teardrop constructed without a sunroof. To offset ventilation issues the car was fitted with twin outward-opening windscreens – a design patented by Joseph Figoni. Bestowed with both elegance and performance, it wore race number 115 when it placed 11th overall at the 1950 Grand Prix in Watkins Glen driven by Jim Floria, and competed at Wilmot Hills and Elkhart. After passing through the hands of Tommy Lee, Brooks Stevens, and Bruce Lustmen, the Teardrop found its way to John W. Rich and the JWR Automobile Museum in Pennsylvania.


Were it not for Mr. Steven's museum curator's hasty decision to repaint the car while he was away in 1979, this Talbot would almost certainly still wear its original metallic blue livery. Mr. Bruce Lustman had the car sympathetically returned to its original mechanical specifications around the mid-1990s, as some minor modifications had been made for its later competition endeavors. Before arriving at Pebble Beach in 2022, the car was given a repaint in a paint scheme similar to the Talbot-Lago that won Pebble Beach in 1997.

A Comparison of the 1997 Best of Show and the 2022 Best of Show Nomination
A few notable differences are noted below:
| Best of Show | Best of Show Nomination |
| --- | --- |
| Straight bumper | Bent bumper |
|   | Slight space between the windscreens |
| Sunroof | No Sunroof |
|   | Teardrop style side windows |
| Silver wire wheels | Black wire wheels |

So the judges in 1997 decided the Talbot-Lago was the most elegant. Why didn't the near-twin win in 2022? Simply, the judges believed the 1932 Duesenberg J Figoni Sports Torpedo was more deserving. Chassis 2509 (engine number J-465) was shipped without coachwork to European distributor E.Z. Sadovich's Motors Deluxe of Paris, and there coachbuilder Joseph Figoni fitted it with a unique Sports Torpedo complete with a hood extended back to a low vee'd windshield and a tapered tail. Like the 2022 Best of Show Nominee, J-465 has competition pedigree, being driven by Sadovich in the 1932 Paris-Nice Rallye, and Figoni coachwork. It was later exhibited at a concours at Cannes, winning the Grand Prix.


During the 1960s, the original coachwork was removed and ultimately mounted to another Model J chassis. The original chassis and Figoni coachwork remained separated for decades until both were acquired and reunited by the present owner. It was shown at the Pebble Beach Concours d'Elegance as an 'exhibit only' display before retaking the show field in 2022 where it was crowned Best of Show.

A Look at Other Talbot-Lago Tear Drop Coachwork by Figoni & Falaschi


Chassis 90107 was ordered by the Maharajah of Kapurthala, was used by the Maharani, an English woman who went by the name of Stella Mudge, an exotic dancer at the Folies Bergeres in Paris. It campaigned in several Concours d'Elegance where it won many awards and is currently known as the only Tear Drop with front fender skirts. The car was imported in the United States by Luigi Chinetti in 1950, and was later donated to The Nethercutt Collection by Betty Locke in March 2005. This Talbot-Lago has been given a ground-up restoration with original paint and leather upholstery used as references, ensuring its return to original colors and configuration. It made its restoration debut in 2005 at the Pebble Beach Concours d'Elegance where it earned a First in Class trophy. In 2007 it won Best of Show at the Amelia Island Concours d'Elgance.

This Talbot-Lago was displayed at the Olympia International Automobile Exhibition in London and its first owner was Bentley Boy and chairman of Bentley Motors Woolf Barnato. It has an aluminum alloy body, a sunroof, a foldout windscreen, and competition-style exhaust headers.
In the 1960s, the car sold to Otto Zipper and imported to teh United States. Subsequent owners include Peter Giddings, John Calley, and Pat hart, who undertook a multi-year restoration. In 1985, the car was acquired by Peter Mullin who completed the restoration.

Chassis 90112 was delivered new to M. Troussaint, Director of the Casino at Namur, Belgium. Likely as a result of World War II, the car disappeared from view, resurfacing in storage in the 1950s. It was complete and original when the current owners acquired the car in the early 2000s. The car proved to be remarkably complete. Most of the wooden framework was used after disassembly, cleaning and refastening. Sheet metal, upholstery and mechanical refurbishments were all handled with an eye towards perfection and a respect for the original intent and purpose of the car.

Talbot-Lago T150 C SS number 90117 was ordered in 1938 by the Duke Philippe de Massa specifically to race in the 1939 Le Mans 24 Hours. Seized by Germans during World War II, this car remained in Eastern Germany until the fall of the Berlin Wall. Through various owners, it ended up in the United States where it was completely restored.

This car was purchased by Mrs. Robin Byng who saw it on display at the 1938 Paris Salon. Her husband was the son of the Earl of Strafford. Together, they enjoyed this car in France prior to World War II. The car was commandeered by the Nazis during the war and its tires were stolen. The interior did not fare so well either, as it was ripped and torn. The Byngs were later able to recover the war once peacetime arrived.
The car was later imported into England where it was given a proper restoration. It was later acquired by Rob Walter, a racing car driver, who fitted it with several modifications such as a Lockheed conversion for the brakes. The Wilson gearbox was switched with a Cotal which required no use of the clutch except for the initial starting off. The 6.00×17 tires were replaced with 5.25×17-inch. This car was used at the 1949 LeMans 24-Hour race by Walker as his test car. The car was in the ownership of Mrs. Gladys Gehrt, a United States, resident from the 1960s to 1974. It was sold to John Calley of Beverley Hills who kept the car until 1985 when it was sold to Tom Barrett. It was later traded to John Wallerich. In 1992, it was apart of the Blackhawk Auto Collection. It was added to the Rosso Bianco Collection later in that year.

This Talbot Lago T150C is built on the longer Speciale chassis. The longer chassis allows for increased luggage space and two rear jump seats. This car raced at Spa in Belgium in 1948 and placed first in class.

Chassis 90103 spent its early life in France and Switzerland. This was also the first 'New York-style' Teardrop coupe built. Its first owner was Freddie McEvoy, an Australian member of the 1936 British Olympic bobsled team. A prominent player on the Hollywood scene, McEvoy's ready access to celebrities made him the ideal high-profile owner. It was relocated stateside in 2000. The restoration was completed in 2011.
Goutte d'eau cabriolets


Three goutte d'eau cabriolets were built including this Talbot-Lago which was commissioned by M. Cattino of France and built on a short T150C chassis. Its second owner was racing great Louis Rosier, who had a grand prix style body made for the car and raced it successfully, including an overall win at the Grand Prix of Albi in 1947. The car was raced in this form at circuits in Europe for many years by later owners, but it has now been returned to its original Figoni & Falaschi style glory.

This Talbot-Lago is simiarly styled to the 1936 Paris Auto Salon Delahaye. Its signature features include sweeping pontoon fenders, low windscreen and intimate seating for two. It won the first Amelia Island Concours d'Elegance in unrestored condition and has since undergone a meticulously complete restoration in 2006. It made its restoration debut in 2006 at the Pebble Beach Concours wehre it won the French Cup.

The above two images are of chassis number 90111, which was first registered to Michael Dassonville in Paris, who, after World War II, abandoned the car there when escaping to Brazil under mysterious circumstances. It was eventually sold by the French authorities in 1952. It then changed hands several times before being sold in the mid-1950s to Vojta Mashek of Chicago. Mashek drove the car in Vintage Sports Car Club of America events, winning many races, and it remained in his family until 2008 when it was sold to Jim Patterson of Louisville, Kentucky. It was bought by the current owners in 2015 and has now been restored to look as it was in 1938.
Carrosserie Marcel Pourtout's Teardrop


Chassis 90119 was built by Carrosserie Marcel Pourtout with styling by Georges Paulin, who had earlier sketched a one-of-a-kind Bentley coupe for Andre Embiricos. In comparison to the earlier Figoni efforts, this example has a more masculine and aggressive appearance. The car was commissioned by Monsieur Parent, a wealthy amateur racer who competed in a few regional events. It was stored safely in a warehouse in Marseille and was raced after the war by Domenic Sales. An American, David Leopold, saw the car in Paris, bought it and shipped it home. It went through several caretakers over the years before being purchased in 2000 by the current owner.
This vehicle is one of only four Pourtout-bodied 'Teardrop' Talbots that were built.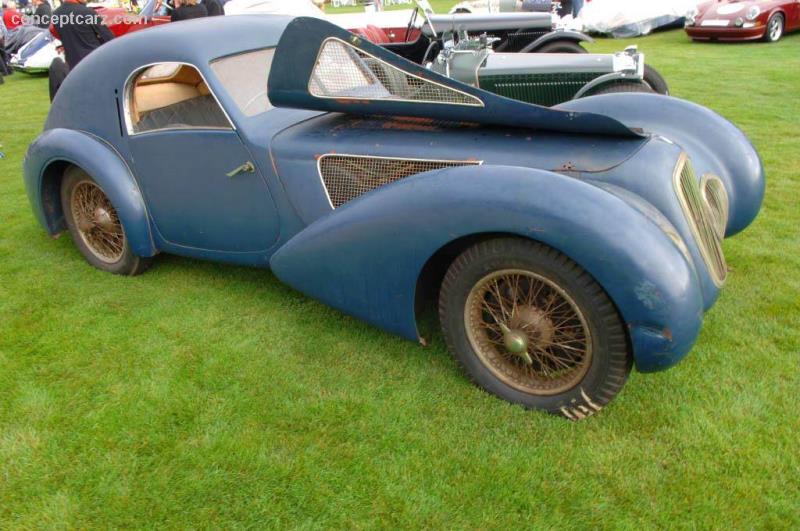 Chassis 90120 is the last of the four with Marcel Pourtout, built in 1939. It was completed just after the war and was owned initially by a wealthy amateur sportsman, Pierre Boncompagni, who raced the Talbot successfully under the flag of Ecurie Nice in 1950 and 1951. After his early death in 1953 at the wheel of a Ferrari, the Talbot was owned by several European drivers before going to the United States with James R. Stannard Jr. of Long Beach, California. It was acquired by its current owner in 2008 and has since been completely yet sympathetically restored. The 2014 Pebble Beach Concours d'Elegance was its first concours since the completion of the restoration.
Figoni & Flaschi Coachwork on the Delahaye chassis
Various designs and configurations
Delahaye showed its new 135 model at the Paris Auto Salon in 1935. The car boasted a brand-new chassis but had the same 3.5-liter, 6-cylinder engine as its predecessor. One year later, Delahaye introduced the more powerful Type 135 M, which offered a slightly larger engine with improved horsepower and a choice of single, dual, or triple carburetors. Sports versions of the 135 M were very successful in competition, with one example famously coming in second overall at LeMans in 1937 and taking first, second, and fourth places the following year.

Photo credit: Daniel Vaughan
posted on conceptcarz.com