From the start, Briggs Cunningham had one goal in mind – win the 24 Hours of Le Mans with an American car driven by American drivers. He never reached that goal, but he gave it all the hell he had to give. His last attempt was with three 1960 "Cunningham Corvettes."
Chevrolet was desperately trying to build America's first mass produced sports car. As we all know, Zora Arkus-Duntov was leading the project, but he had his hands tied. Chevrolet followed the manufacturer racing ban after the 1955 Le Mans disaster and as a result, Duntov didn't have a proving grounds to develop from. Without that, the Corvette couldn't really be developed properly or even marketed in an appropriate way.
But Duntov wasn't one to play by arbitrary rules and quickly put together a plan. If he could talk Briggs Cunningham into fielding a team of Corvettes for Le Mans, Chevrolet could develop the car by proxy as well as garner the marketing advantage the car desperately needed in 1960. Easy enough – right?
The thing is though, there was nothing special about the 1960 Corvette. It was overweight, it was under-braked, and featured all of the short comings that Briggs Cunningham had almost a decade of experience discovering. Why would Briggs, using his own pocketbook, go through all the effort of fielding a team if he knew he had no chance of success?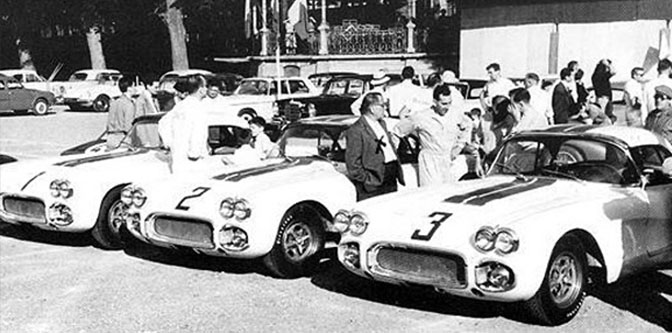 That's a question that has never really been answered. We know Briggs had reservations, but the details have never been written about in full. All we do know is that he bought three fully optioned 1960 Corvettes from Don Allen Chevrolet. Afterwards, the cars were modified and outfitted with "unofficial support" from Chevrolet and Duntov. How much of Brigg's own resources were spent on the endeavor is up for debate.
Of course, we all know what happened in France. Two of the Corvettes crashed out and the last finished first in class, but only 8th overall. What you don't hear about often is the fact that Briggs Cunningham wasn't happy with the Corvette and dropped out of the program immediately after the race. In fact, Briggs wouldn't bring an American car to Le Mans again… opting instead to field "actual sport purpose cars" like the new aluminum blocked Jag E-Type.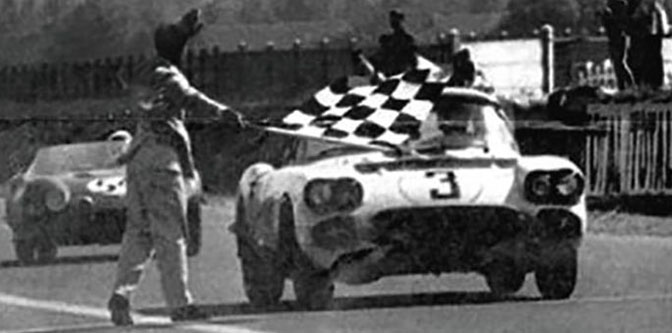 Brigg's discontent dissipated historically due to huge marketing efforts from Chevrolet as was as a sort of confirmation bias in American racing circles. But this fact remains – the Cunningham Corvettes are significant because they were the first Corvettes to race Le Mans. Outside of the United States, however, these cars were a byline and not a reason for worry by the likes of Ferrari, Porsche, Jaguar, or any other contender.
***
So, Briggs never got to realize his dream. He never won Le Mans in an American car. In fact, an all American team didn't win the endurance event until 1967 when the MK IV GT40 took home the trophy – a car that Briggs considered to be America's first real sports car. That's a story for another time and on another venue… but it's a pinnacle that, in my estimation, is very relevant to Briggs Cunningham.
Carrol Shelby was inspired (in-part) by Brigg's own C-series when he developed the Cobra. The Cobra was light and made huge power, but lacked the balance required to be consistently competitive against the European offerings. Shelby learned this lesson in much way the way Briggs did and that became the inspiration for the Ford GT.
And the GT40? That's what happens when an American Corporation puts ego in front of profitability. And that was really Brigg's dream. He spent a fortune trying to do it on his own. He braved IRS injunctions, bad loans, shady business deals, and all sorts of other absurdities that put him in unfavorable financial situations… all for one goal that he never realized but very definitely inspired.